29th April 2021
ReCraft a jumper into a hot water bottle cover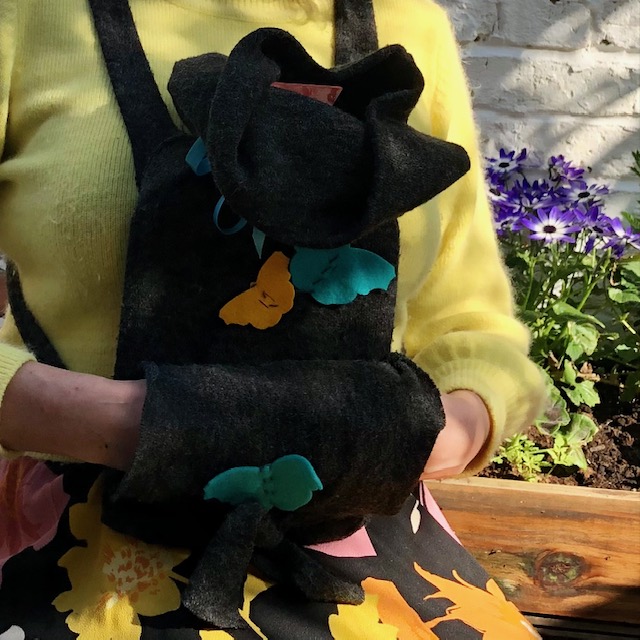 Home-made Hot Water Bottle Cover
Forget handbags and heels,  the most-needed outdoor socialising accessory right now is a personalised, home-hot-water bottle cover; the cosier the better and an essential for catching up with family and friends on chilly spring afternoons and evenings. This super-easy sewing project taken from our first book ReCraft, can be completed in less than half an hour, no sewing machine needed,  and you probably have all the things you will need lying in a drawer somewhere.
It's so easy, you almost don't need instructions –  but here we go…
First of all, find an old polo-neck jumper – the chunkier the better. If you cant locate a suitable woolly, one, it's a perfect excuse to visit a charity shop.
You will also need scissors and a needle and thread. Ribbon gelt, buttons and anything decorative you fancy is purely optional.
Turn the jumper inside out. Place the hot-water bottle on top, positioning is so the bottle neck sits ontop of the jumper neck.  Draw around leaving a 1.5 cm margin. Remove hot water bottle and pin through both thicknesses of the jumper just inside the drawn line.
Cut out the shape  1.5cm outside your drawn line. Hand or machine sew. You might want to use backstitch if you are hand-sewing for extra strength.
Remove pins, turn the right way round and pop in your hottie. You can thread thin ribbon through the neck to tighten it if necessary and because it looks nice. Decorate with applique, embroidery, buttons, words of wisdom and head outside!
Tip: If you are worried about the fabric fraying, try washing the jumper first on a hot wash. This will shrink and matt the fibres together, basically turning it into felt. This works well with lots of mixed yarns –  not just woollen jumpers.
Now, I've updated the original instructions  for the  original upcycled hot water bottle cover by adding straps and a handwarmer to the front;  I used one sleeve for the straps and one sleeve for the handwarmer. Again, I hand-sewed the whole thing and I didn't hem, as I really wanted to get it made in half an hour. If you were making it as a gift for someone you would probably want to spend a little more time on the finish! Whichever way you do it, I think its perfect for outdoor socialising. See you in the park!