19th October 2020
How to Make an Easy Halloween Cloak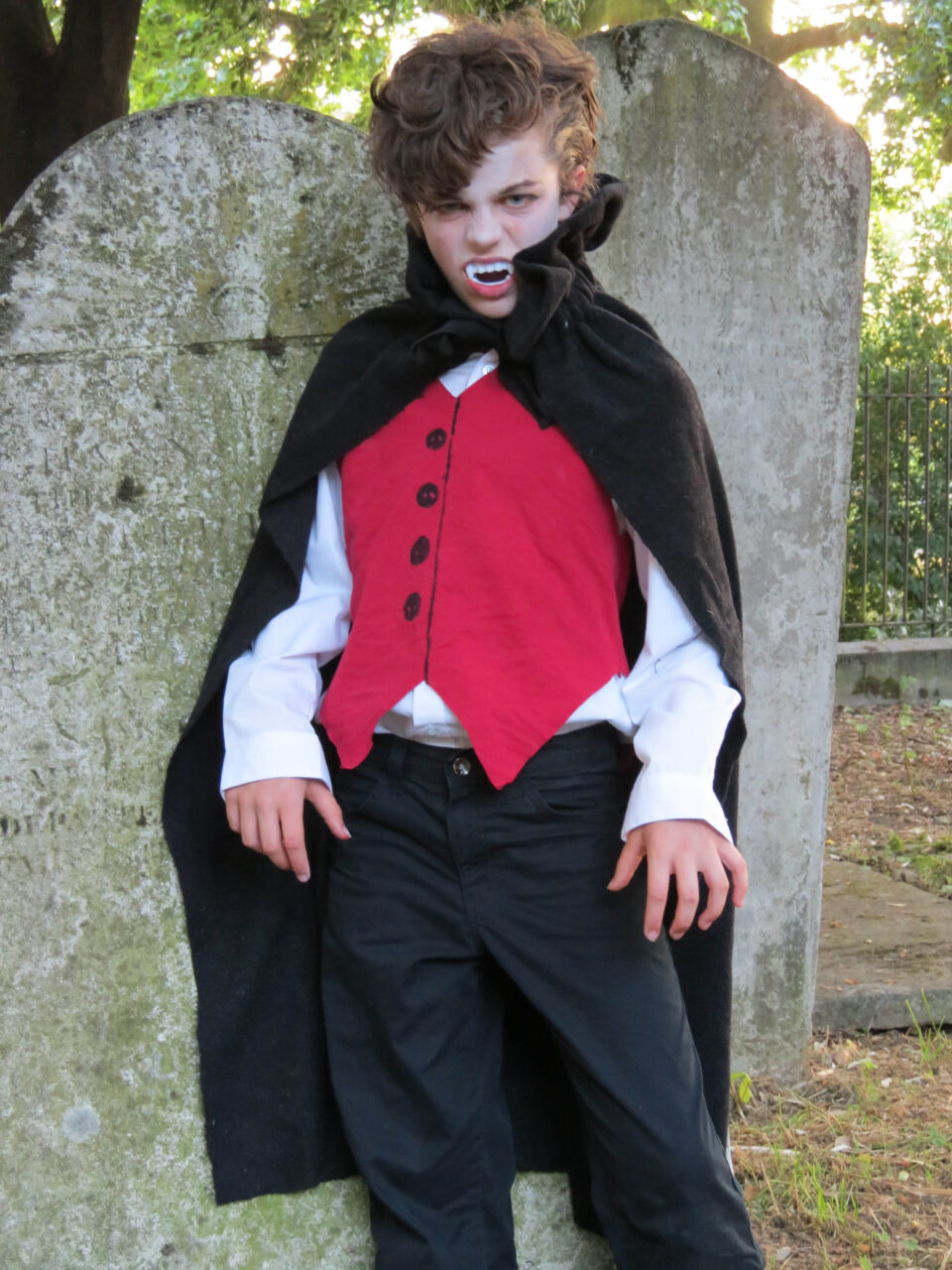 VAMPIRE CLOAK
The high ruffled neck of this cloak make it perfect for vampires, but  it's also great for witches, wizards and all kinds of other halloween antics. It's also pretty warm – which can be mighty useful if you or nippers are out roaming the chilly streets in search of  sweets.
WAISTCOAT –  5 min make!
We made the waistcoat by cutting down a red tee-shirt and drawing on the centre line and buttons with a black marker.
CLOAK
YOU WILL NEED:
Rectangle Fabric –  1m wide by however long you want the cloak.  If you use a fraying fabric you will need to hem the sides and the bottom.
½ m thick elastic –  about 3cm wide, 6 cm sew on Velcro , basic sewing kit, 2 x safety pins
How to make a Halloween cloak
1 Fold and pin a 12 cm wide hem along one side of the fabric.
2 Machine sew two parallel lines along the hem at least 1 cm wider than the elastic. If you are hand-sewing, keep your stitches very straight.
3 Using a large safety pin thread the elastic through the channel and gather up the fabric until it just fits around your neck with about 8 cm of elastic sticking out on each side. Use the safety pins to hold  elastic in place while you sew it securely down with two vertical lines of sewing. Remove the pins.
4. Sew the Velcro to the two ends of the elastic.  (Or just leave the elastic long enough to tie in a bow) You c an always add a ribbon bow to the elastic for a more flouncy look.