18th March 2019
Mother's day crafts – home made presents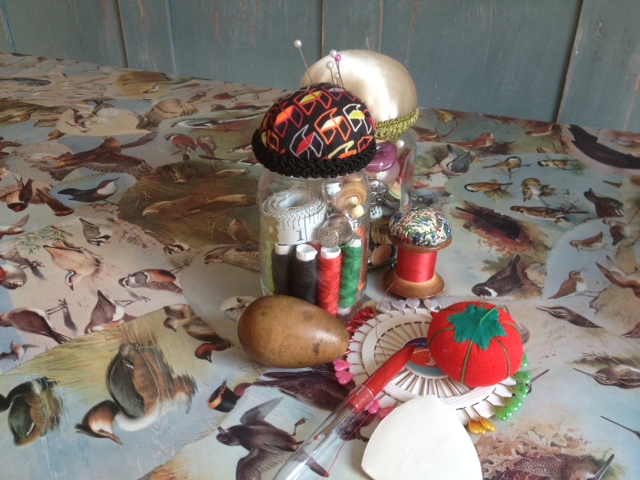 Jam Jar Sewing Kit –  Home made present ideas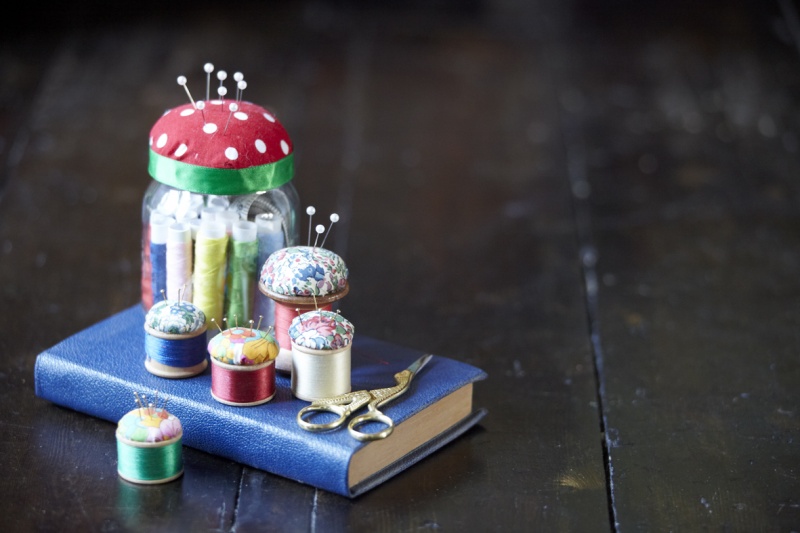 This is a great upcycling project and a really quick, cheap and easy make.  I use mine as mini sewing kits  –  I need at least three as I'm always losing things or finding stray needles and pins lying around and need somewhere to prong them. I've just made one for my Mum for mother's day and I've filled it with a mixture of vintage sewing accessories and new bits and bobs from the Buttonbag Haberdashery store like stork scissors and heart-shaped pins. You can make mini ones with old cotton reels too –  but if that looks too fiddly we've made a few available on the web site.
You will need: a jam jar, a small square of fabric –  say about 12 cm,  stuffing –  or cotton wool, ribbon or braid and glue.
Step one
Cut a circle of card the same size as the lid of your jar. Cut a circle of fabric about 5 cm wider. Sew a line of gathering stitches about 5mm from the edge all the way round. Gently pull the thread to gather the stitches and start stuffing the dome you are creating putting more wadding in the centre . Place the card on top and pull the thread tight so the fabric fits snugly round the edge. Secure the gathering with a few stitches on the spot.
Step two
Glue the dome to the lid and then stick a piece of ribbon or braid around the edge to hide the join. That's it. Fill with buttons, threads or anything else you like. You can also use the same method to make extremely cute miniature versions mounted on vintage cotton reels. –  a great way to effectively use the tiniest scraps of fabric you just cant bear to throw away.
You can read more about this project and other crafty ideas in the buttonbag book, Recraft.