9th February 2012
New buttonbag craft kits available now
We've  got lots of new things on the website –  both for little fingers and older crafters.  My favourite is Kitten Basket. We designed it with children in my mind but judging by all the oohs and aaahs these little felt kittens have propmted  I think it might be a hit across the generations.
We've used pre-cut shapes
here so the kittens are
easy to sew.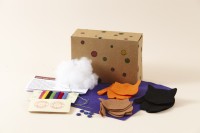 Sara's favourite is the new LadyBird Flower Bag Kit  which is  also good for young sewers
 with pre-cut shapes and shiny black buttons.
We also have a really handy sewing set for adults and children aged 10 and older –  our pin-cushion and needlecase set. This has everything you need to make a  – yes – pin-cushion and a felt needle case –  two things no sewiing basket should be without!