16th April 2011
Easter Recipes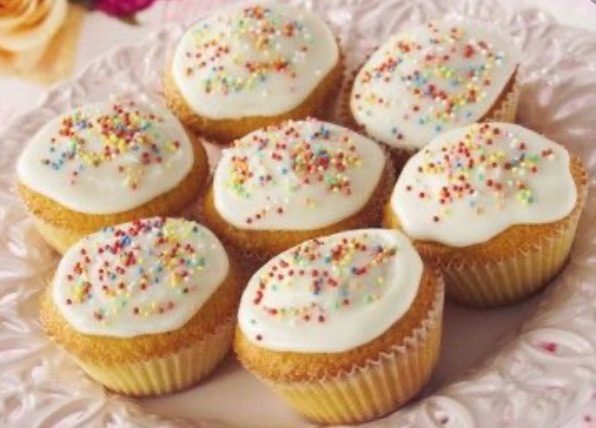 A selection of yummy recipes to keep the kids entertained and their tummies full this Easter.
Peppermint Ice Bunnies
We were inspired by the peppermint mice we made for Father Christmas to make some little rabbits for Easter. They look very tempting perched on top of our coconut grass-topped fairy cakes.
One egg white
250 g sieved icing sugar
A few drops peppermint oil and food colouring.
Whisk the egg white lightly in a big bowl together with a few drops peppermint oil.
Stir in the icing sugar to make a thick, dough-like paste – you may not need all the icing sugar.
Divide into three lumps and work in a couple of drops of food colouring into two, leaving the last one white.
Flatten an egg shaped lump for the body and a smaller, egg-shaped lump for the head. Mark out ears and eyes – or use silver balls.
Coconut icing
200ml light condensed milk
150 g desiccated coconut
100g icing sugar – or a little less
A couple of drops green food colouring
Stir all the ingredients together and spoon on top of fairy cakes. This is just a soft coconut ice, so work a little more icing sugar into any left-over mixture and stir into a shallow tray lined with grease-proof paper. Let it harden in the fridge and then cut into bite-sized lumps.
Fairy Cakes
Three eggs (or use two and the yolk from the peppermint bunnies plus a tablespoon of milk)
150 g caster sugar
150 g soft butter or margarine
150 g flour
OPTIONAL 30 g cocoa – for chocolate cakes or 30 g desiccated coconut for coconut-cakes
Mix all ingredients in a bowl with hand-held beaters or a whisk. Divide into paper cases in a bun tin – this quantity should make 12 -14 generous cakes and still have quite a bit of mixture for spoon-licking.
Bake at 180 degrees for 15 minutes.
Chocolate Nest Cakes
100 g very soft butter
200 g icing
1 tablespoon cocoa dissolved in 1 tablespoon hot water
Mini easter eggs
Flakey chocolate bars
Beat all the icing ingredients together until smooth. Spread a little icing on each cake. Crumble flakey chocolate into shreds and pile on top of the cakes. Finish with the eggs.